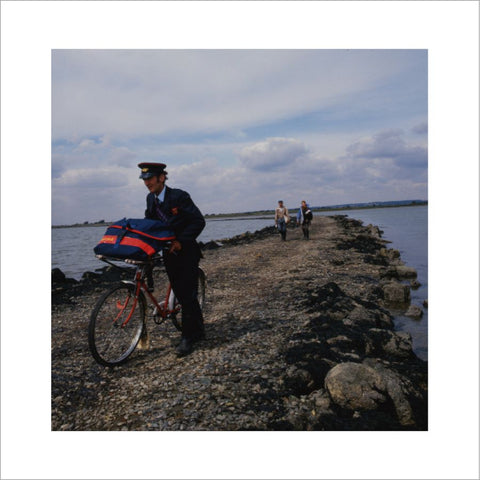 product details
Small art print
Overall size of this product is 40 × 40 cm.
The image area of the print measures 32 × 32 cm.
Additional image details
Collection: Photographs
Subject: Postman Ken Chaplin pushing his bicycle across a causeway to Osea Island, near Maldon, Essex. Islanders sent a letter of praise declaring - Ken rides his bike over whatever the weather, he expects no thanks for the many little jobs he does, (he) just gets on with it. Although he had never been stranded on the island, just in case, he always rode over in wellington boots. The rough and slippery causeway meant Ken fitted double tyres to his red heavy-duty bike.
© Royal Mail Group Ltd, courtesy of The Postal Museum
Postman Ken Chaplin pushing his bicycle across a causeway